Smiths Medical 67SN025 - TUBE TRACHEOSTOMY NEONATAL SIZE 2.5MM CUFFED 30MM SILICONE STRAIGHT NECK FLANGE OBTURATOR TRACH-TIE PORTEX BIVONA RADIOPAQUE STERILE
Bivona TTS Cuffed Neonatal With Straight Neck Flange Tracheostomy Tubes
Eliminate the need for multiple tubes with the Bivona TTS
The Bivona Neonatal and Pediatric TTS tracheostomy tubes offer many capabilities in one design. The TTS cuff when inflated, seals the trachea for a ventilated patient, and when deflated, rests tight to the shaft of the tube. This enables the tube to be used for weaning patients from a ventilator and also aids in speaking. The TTS provides a tracheostomy solution for a variety of airway management needs without having to change tubes.
The silicone material is intended to provide maximum comfort to the neonatal or pediatric patient by offering a soft, flexible tube free of DHEP, plasticizers and latex. The Bivona TTS tube range is recommended for neonatal and pediatric patients with sensitive tracheal mucosa or stoma site, when voice is desired, for intermittent or nocturnal ventilation, when the patient is ready for weaning.
Tight to Shaft (TTS)
The TTS cuff design offers the benefits of a cuff with the profile of a cuffless tube. When the silicone cuff is totally deflated it adds no significant dimension to the outer diameter of the tube's shaft, yet it can be partially or completely inflated for varied airway management needs.
| | | | | |
| --- | --- | --- | --- | --- |
| Order Code | Size | ID (Mm) | OD (Mm) | Length (Mm) |
| 67SN025 | 2.5mm | 2.5mm | 4.0mm | 30.0mm |
Product Benefits
Bivona Neonatal and Pediatric TTS tracheostomy tubes are intended to provide a tube that has the appearance of an uncuffed tube and the security of a cuff. The TTS cuff design has many benefits:
The TTS cuff takes the profile of an uncuffed tube when deflated which is intended to minimize trauma when the tube is inserted.
Multipurpose design and added security of the TTS cuff, eliminate the need for different tubes..
The silicone tube construction allows the tube to remain flexible in the trachea.
The wire-reinforced tube shaft design is intended for improved kink and crush resistance, while maintaining MRI compatibility.
A rounded obturator tip is designed for easy introduction into the trachea with minimal trauma.
The Neonatal and Pediatric tubes come have two neck flange options ("Straight" and "V")for improved patient fit and comfort.
Common Applications/Procedures Product is Used For:
Airway management

Intermittent/nocturnal mechanical ventilation

Leak management

Weaning and speech

Hospital and home care use
Sizes
The doctor orders a tracheostomy tube to fit the needs of each patient and their airway, usually based on two key sizes; the inside diameter (I.D.) of the tube and the length of the tube. The inside diameter sizes of pediatric tracheostomy tubes range from 2.5 mm (millimeters) to 5.5 mm.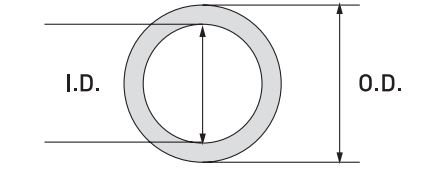 Outside diameter (O.D.) is another useful size to consider, especially when changing from one brand of tube to another. The O.D. plays a role in how easy or difficult it is to insert and remove the tube and how well the tube fits.
Cuffed and Uncuffed Tubes
Tracheostomy tubes come in two basic styles: cuffed or uncuffed. A cuff is a balloon-like part that, when inflated, acts as a seal to reduce or prevent airflow through the mouth and nose. Breathing now takes place through the tracheostomy tube.
While there are differences in types of cuffs, all cuffs serve the same purpose - to prevent leakage of air out of the lungs and to prevent leakage of fluids into the lungs.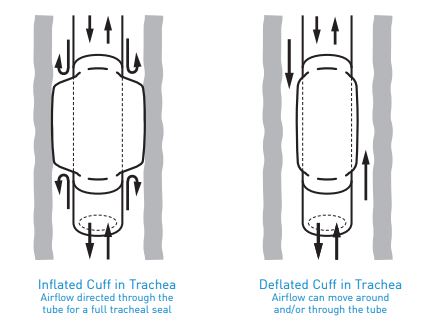 What Is a Tracheostomy?
A tracheostomy is a small opening through the skin and tissue into the windpipe (trachea) of your child. A small tube, called a tracheostomy tube or trach tube, is placed through this opening into the trachea to aid in the maintenance of the airway. Your child breathes directly through this tube, instead of through the mouth and nose.
Why Does My Child Have a Tracheostomy?
A tracheostomy helps protect your childs airway and makes a route through which ventilation (breathing) can be provided by a machine (ventilator) if needed. It is sometimes needed because there is a blockage in their breathing passages or because your childs illness has caused the airway and lungs to produce secretions (mucus) which are too thick and can only be cleared with mechanical suction.
How Does the Respiratory System Work?
Air enters the nose or mouth, which warms, filters, and humidifies the air. From here, air travels down the throat through the windpipe, ultimately entering the lungs.
Various parts of the airway produce mucus, helping clean the air we breathe. Hair-like structures in the airway move back and forth, moving mucus up and out of the lungs and into the back of the throat where they can be coughed out or swallowed. Mucus serves an important role in adding moisture to the air we breathe.
The liquid found in mucus comes from special glands in the trachea. For these glands to function, they need plenty of fluids.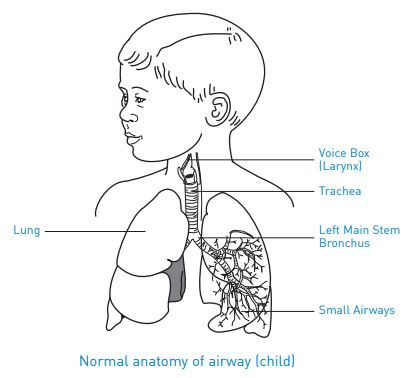 What Makes Breathing with a Tracheostomy Different?
Because your child has had a tracheostomy, the upper airway has been bypassed. When he/she breathes through the tracheostomy, the air going to the lungs does not get humidified, warmed, or filtered of the dust particles. The fact that the upper airway has been bypassed lowers the defenses that the airway depends upon. When caring for your child, certain safety measures must be followed. It is very important that everyone who will care for the child learns tracheostomy care and how to deal with any emergencies that may occur.
Your child will need to be loved and hugged more than ever. Your confidence in his/her care will be reflected in his/her sense of security. A major part of your care activities will be aimed at providing a safe environment for the child. You will need to make sure that the air is clean, moist, and warm. The doctors, nurses, and therapists will help you in making sure your home provides this type of environment.
It is very important to replace the lost functions of the upper airway and to keep secretions as loose and watery as possible. Bubbling humidifiers, mist producing nebulizers, and heat and moisture exchangers (HMEs) are often used for this purpose.
Some changes in both you and your childs way of life are needed to ensure safety. Water may be threat to your child. Taking a bath/shower requires constant watching by a responsible adult. Because your child cannot filter the air he/she breathes, smoking, animal hair, pollen, and dust must be avoided around your child.
Bivona Silicone Technology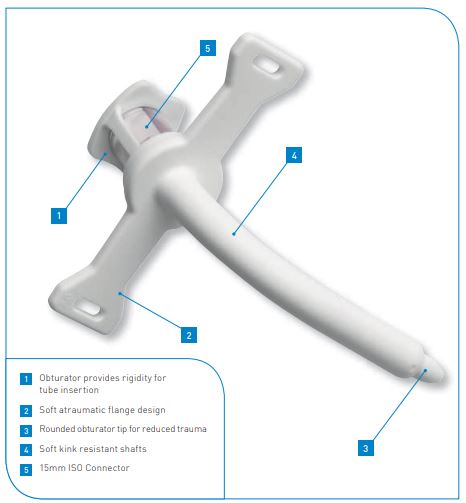 Silicone Technology for Cost Effective Specialist Applications
The Bivona silicone range of tracheostomy tubes provide a specialist tube for challenging patient applications. These challenges include neonatal and paediatric patients as well as long term adult tracheostomy tube users. A comprehensive range of tubes are available that include
Adjustable flange Hyperflex. Instantly customisable wire reinforced tube for difficult anatomies. Adult and paediatric sizes available
FlexTend Plus tube. Flexible one piece, kink resistant, wire reinforced silicone shaft with independent flexing proximal and distal shafts.
Uncuffed, Fome-Cuf and TTS cuffed paediatric tracheostomy tubes provide flexibility to conform to a wide range of anatomical variations found in paediatric patients
The Bivona silicone technology is more biocompatible than PCV, is less effected by time, light and surface encrusting. It is also more economical compared to PVC as it allows longer time between tube changes and can be re-processed which minimises per use costs.