Z800F - Infusion Pump, Set Based Anti-Free-Flow Pump, NEW, Each
Zyno Medical Z800F Set Based Anti-Free-Flow Infusion Pump
The Z-800F Infusion Pump is intended for use at the direction or under the supervision of licensed physicians or certified healthcare professionals who are trained in the use of the Z-800F Infusion Pump and the administration of parenteral fluids and drugs, blood and blood products. This training should emphasize patient safety and prevention of error.
This document provides directions for use of the Z-800F Infusion Pump. To ensure safe usage, please read the entire instruction manual before using the device.
The Z-800F Infusion Pump must only be operated utilizing Zyno Medicals proprietary administration sets. The sets are designed for use with the Z-800F Infusion Pump as well as for gravity-flow stand-alone use. For specific IV Administration Set instructions, refer to the Directions For Use provided with the set. For priming and loading instructions, refer to Loading Primary Administration Set and Loading Secondary Administration Set sections of this document.
IV set based free-flow protection:

Is simple and easy to use
Protects patients
Protect health care workers
Protects the work environment
Zyno Medical Z800F Set Based Anti-Free-Flow Infusion Pump Features
Flow Rates: The Z-800F Infusion Pump flow rate range is from 1 to 1200 ml/h.
Free Flow Protection: The Z-800F Infusion Pump has a built in free flow clamp to prevent inadvertent free flow when the set is loaded in the pump. The Z-800F Infusion Pump also has an IV Set based antifree-flow module to prevent inadvertent free flow when the set is unloaded from the pump.
WARNING: Make sure to only use 800F IV Sets with IV Set based anti-free flow clamp, and make sure to close the roller clamp before removing administration set from Z-800F Infusion Pump.
Occlusion Pressure: The Z-800F Infusion Pump provides 14 levels of adjustable downstream occlusion alarm thresholds between 4 psi and 30 psi.
Secondary Infusions: Secondary infusions may be delivered at a specified secondary delivery rate and secondary volume-to-beinfused (VTBI) independent of the primary infusion parameters. When secondary VTBI is greater than zero, the pump will always execute secondary infusion first. Automatic changeover occurs to the primary infusion parameters when the secondary infusion is complete. A Zyno Medical proprietary primary administration set with a back check valve must be used.
System Configuration: The system configuration mode allows qualified personnel to customize device settings.
Tamper Resist: The Tamper Resist feature provides a quick, one touch lockout of the front keypad.
Volume-To-Be-Infused (VTBI): The volume-to-be-infused (VTBI) range is from 1 to 9999 ml in 1 ml increments.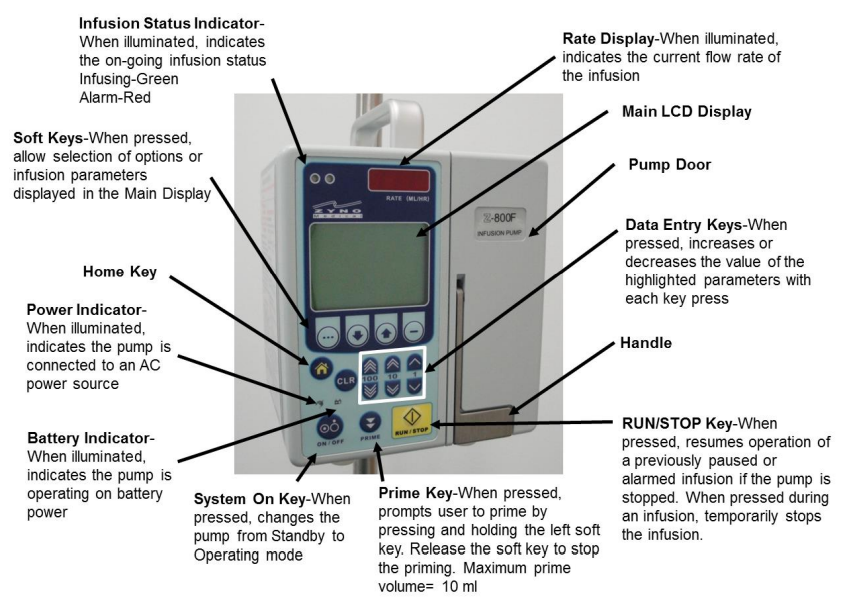 Device Characteristics of Zyno Medical Z800F Set Based Anti-Free-Flow Infusion Pump
What MRI safety information does the labeling contain?
MR Conditional
Device required to be labeled as containing natural rubber latex or dry
natural rubber (21 CFR 801.437):
No
Device labeled as "Not made with natural rubber latex":
No
For Single-Use:
No
Prescription Use (Rx):
Yes
Over the Counter (OTC):
No
Kit:
No
Combination Product:
No
Human Cell, Tissue or Cellular or Tissue-Based Product (HCT/P):
No