3M 90641 - BORDER, FOAM, TEGADERM SILICONE 4X4, 60 EA/CS, 6 BX/CS

3M Tegaderm Silicone Foam Silicone Foam Border Dressing, 4 in. x 4 in. 10 cm x 10 cm (Overall Dressing Size), 2⅜ in. x 2⅜ in. (Foam Pad Size)
3M Tegaderm Silicone Foam Border Dressing is a breathable, absorbent, wound dressing. It is constructed from a conformable polyurethane foam pad, absorbent nonwoven layers, a top layer of film and silicone adhesive. The waterproof film is moisture vapor permeable which prevents wound exudate strike-through and acts as a barrier to outside contamination, including bacteria and viruses.*
Unique multi-layer design provides high absorbency with high breathability to reduce the risk of maceration
Adapts to changing levels of exudate to maintain moisture balance for optimal wound healing
Stays in place yet removes gently making it ideal for fragile skin
Dressing can be lifted and repositioned without losing adherent properties
Provides a water resistant seal while dressing is intact.
Spoke delivery provides easy application
Dressing does not stick to wound bed thereby minimizing disruption of healing tissue
Film backing prevents strikethrough and protects against external bacteria and viruses

Wound care starts with skin care.
Skin is the bodys largest organ, making it one of the most vulnerable to forces like pressure, friction and shear. As a wound care clinician, your mission is to protect and maintain the integrity of each patients skin - but its a complicated job with many factors to consider.
Take wound care dressings. Many clinicians choose to use silicone foam dressings because theyre more gentle to skin than standard dressings, decreasing the risk of Medical Adhesive-Related Skin Injury (MARSI).
Pioneering the science of strong and gentle.
3M invented gentle-to-skin medical adhesives more than 50 years ago, and we continue to innovate solutions that provide consistent adhesion with easy removal to help minimize the risk of MARSI.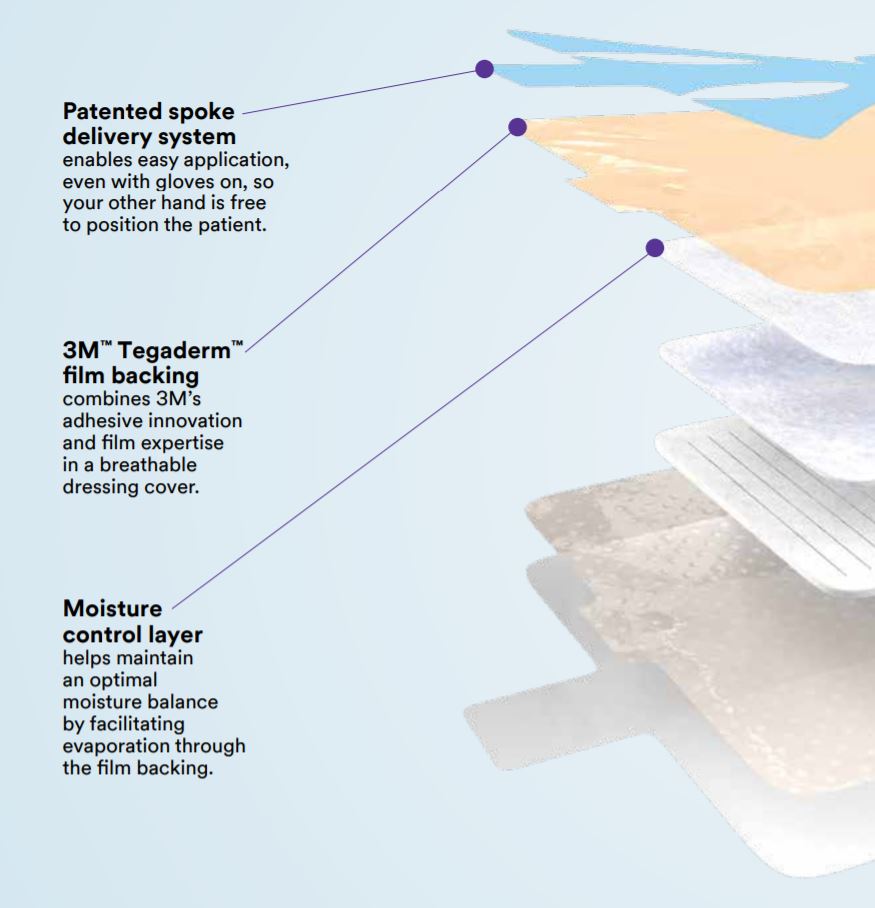 Your challenge: Silicone foam dressings that dont wear as long as you need.
3M Tegaderm Silicone Foam Dressings offer significantly longer wear time than the leading competitive silicone foam dressing while being gentle to the skin. Which may help save your facility time and money on unscheduled dressing changes.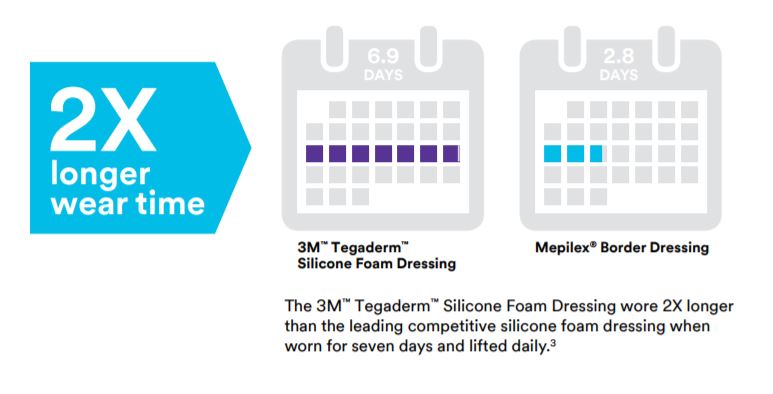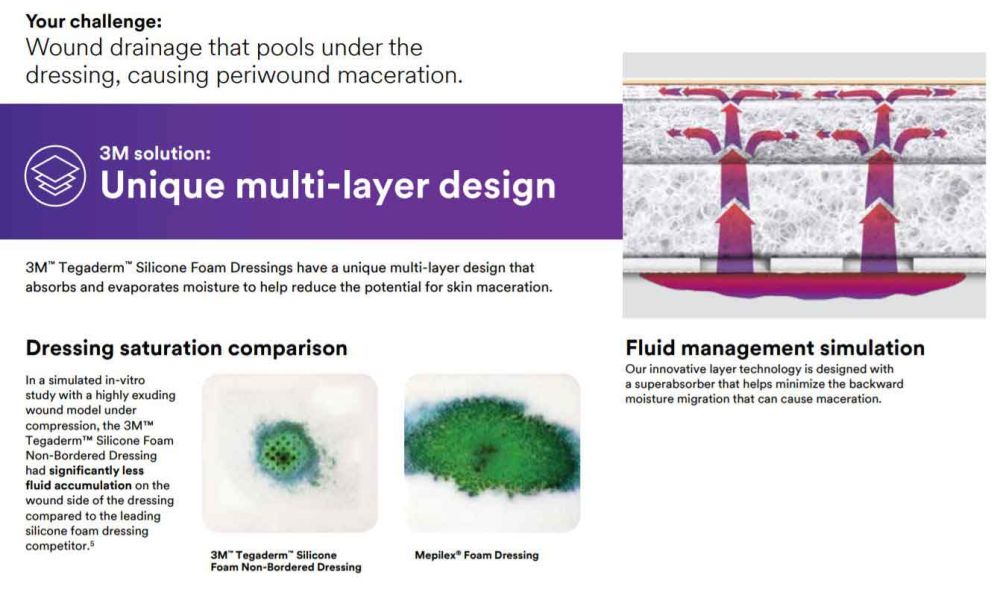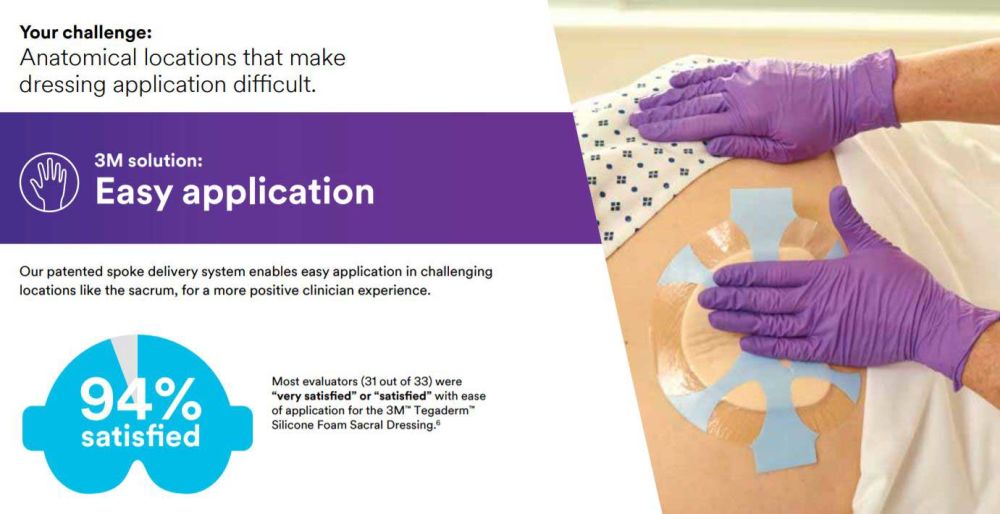 Where smart protection meets pressure ulcer/injury prevention.
Facility-acquired pressure ulcers/injuries are a growing healthcare problem.7 Not only can they lead to longer hospital stays and higher rates of readmission, but they can contribute to greater patient pain and suffering - and in some cases, premature mortality.
As part of a comprehensive pressure ulcer/injury prevention plan, the use of polyurethane foam dressings to protect bony prominences from friction and shear should be considered to decrease the risk of pressure ulcer/injury development.
Ideal properties for dressings used in pressure ulcer/injury prevention:
When selecting a dressing for pressure ulcer/prevention, there are several ideal properties to consider - including the following from the National Pressure Ulcer Advisory Panel (NPUAP) Prevention and Treatment of Pressure Ulcers: Clinical Practice Guidelines document: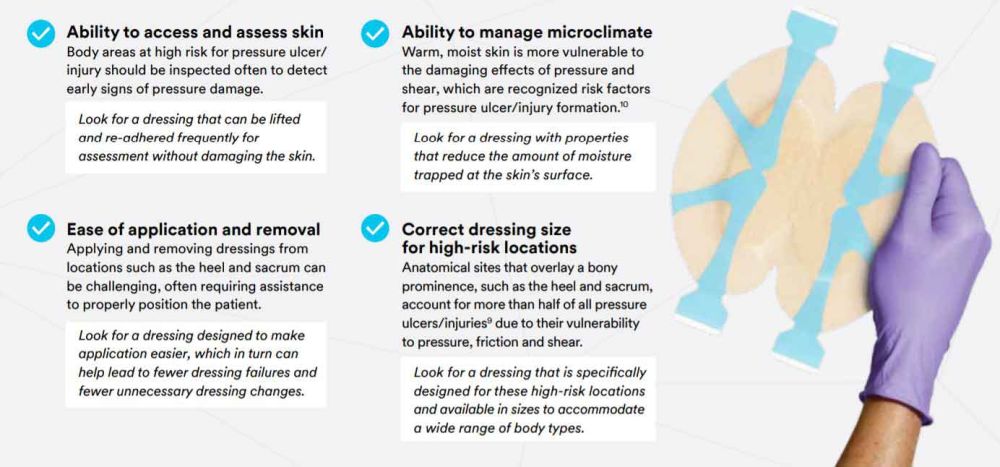 Indications for Use
Tegaderm Silicone Foam Border Dressing is designed as a primary or secondary dressing for management of low-to highly-exuding, partial and full thickness wounds such as pressure ulcers, venous leg ulcers, neuropathic ulcers, arterial ulcers, skin tears, surgical wounds, superficial partial thickness burns, and donor sites. This dressing is suitable for use on fragile skin and with compression therapy. The product is not designed, sold or intended for use except as indicated.
Supplies You May Need
Gloves
Saline or irrigation solution
Gauze pads
Clean towels or underpads to protect patient and surfaces
3M Tegaderm Silicone Foam Border Dressing Select a dressing size to allow for 2.5 cm (1 inch) of foam to extend beyond the wound edge
3M Cavilon No Sting Barrier Film
Prior to Application
Follow Universal Precautions and facility guidelines for infection control. Wash or sanitize hands, set up a clean field with supplies, apply gloves. Cleanse the wound and periwound skin according to your institutions protocol. Dry the area around the wound with dry gauze.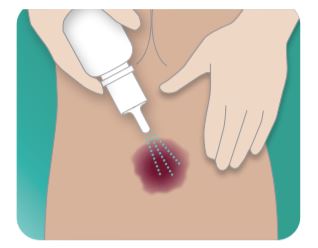 Precaution: Do not use the dressing in combination with oxidizing agents such as hydrogen peroxide or hypochlorite solution. These solutions may affect the structure and performance of the polyurethane foam.
Assess the wound and surrounding area for signs of infection. If infection is present, consult a health care professional. When used on infected wounds, 3M Tegaderm Silicone Foam Border Dressing may only be applied under the supervision of a health care professional. Remove unclean gloves and wash or sanitize hands. Apply new gloves.
Note: If periwound skin is fragile or exposure to wound exudate is likely, apply a barrier film, such as 3M Cavilon No Sting Barrier Film. Let dry.
Directions for Use