Allow C.I.A. to white-glove your request for this item
Not buying today? Need a volume discount, Net 30 terms, or a government quote? Got a backorder, and need immediate stock? That's exactly what we do best. Let us solve your problem.
Product Description
BSN Medical 41955X - Bandage Cast Ocl Plaster 5"X5Yds 12/BX, 4 BX/CS
OCL Plaster Bandage - Extra Fast - Set Time 2-4 mins, Green Label, 41955X, 5 in x 5 yds,4 doz / case
OCL plaster products feature a highly creamy texture for ease of molding. The quick wet out and consistent set time are great for making custom splints in the Emergancy Department or negative molds in the O & P office.
Creamy texture
Fast and extra fast set time
Quick wet out
Smooth finish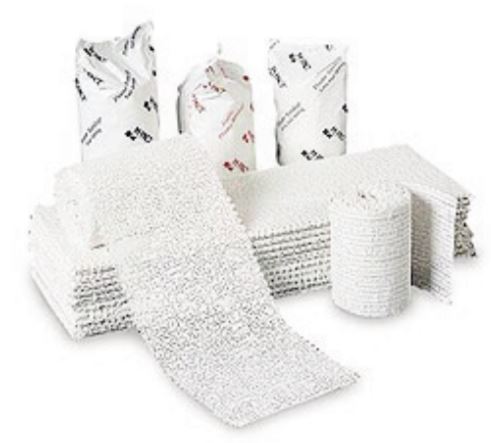 Features & Benefits
Made from woven leno cotton gauze impregnated with plaster of Paris
Fast setting plaster of Paris used ensures fractures can be rapidly immobilised
No central core
Latex free
Indications
External circumferential immobilisation of fractures
Emergency trauma splinting
Total contact casting, diabetic feet
Contraindications
Caution: exotherm reaction of the plaster during the setting phase can generate heatavoid direct contact with the skin or damage may occur
Do not use where there is a risk of swelling
Call Points
Emergency department
Fracture clinic
Orthotic technician
Prosthetic technic
Plaster of Paris
Made from gypsum - calcium sulfate dihydrate
Exothermic reaction when wet - recrystallizes (can burn patient)
Warm water - faster set, but increases risk of burns
Fast drying - 5 - 8 minutes to set
Extra fast-drying - 2 - 4 minutes to set - less time to mold
Can take up to 1 day to cure (reach maximum strength)
Upper extremities - use 8-10 layers
Lower extremities - 12-15 layers, up to 20 if big person (increased risk of burn!)
Product Specifications
Setting time: Use clean water (2225℃). Cold water retards setting time. Hot water will hasten initial set
Use: Immerse bandage in water at 45℃ slant for 35 seconds only
Approximate initial setting time 24 minutes
Approximate final set time 48 hours
| | |
| --- | --- |
| Product Number | #41955X |
| Brand | OCL |
| Manufacturer | BSN Medical |
| Application | Plaster Bandage |
| Dimensions | 5 in x 5 yds |
| Material | Plaster |
| Set Time | Extra Fast, 2 to 4 Minute Set Time |