Allow C.I.A. to white-glove your request for this item
Not buying today? Need a volume discount, Net 30 terms, or a government quote? Got a backorder, and need immediate stock? That's exactly what we do best. Let us solve your problem.
Product Description
Covidien GIA10038L - GIA Auto Suture Loading Unit DTS Series 100mm-3.8mm, Reload, 6/BX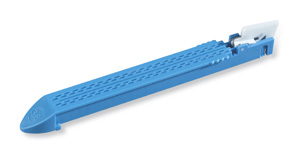 The GIA10038L single-use Loading Units for use with GIA DST Series - Single Use Reloadable Staplers with Titanium Staples. The Auto Suture GIA Reloadable Staplers and the SGIA Knifeless Stapler have application in abdominal, gynecological, pediatric and thoracic surgical procedures for resection, transection and creation of anastomosis. Single use loading unit.
Single use
For use with the MultiFire GIA 100 - 38 stapler.
Size of open staple: 3 x 3.85 mm
Approximate B-shape closure: 1.5 mm
Directional Stapling Technology for perfect B-shape staple formation
Each Disposable Loading Unit contains a fresh push-bar knife.
The disposable loading unit can be used with the GIA stapler codes GIA10038S
and GIA10048S.
Disposable Loading Unit for GIA stapler which places a two double-staggered rows of DST* staples and simultaneously divides the tissue in between the two double rows.