Covidien OMST10BT - Trocar 10mm Autosuture Blunt Tip Disposable 5/Bx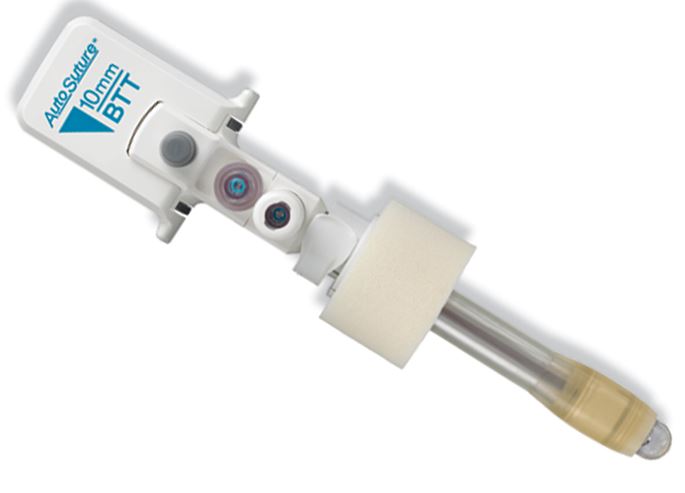 OMST10BT: 10 mm Blunt Tip Trocar, Standard Length, Built-In Converters, Sizes 5 mm and 7/8 mm, 5/Box
The Blunt Tip Trocar is a port for scope maneuverability using a Hasson or open technique, with strong and durable fixation, excellent port-site sealing, and an atraumatic blunt obturator. Our Blunt Tip Trocars offer atraumatic blunt obturators, stable fixation, and excellent port site sealing when performing the Hasson technique. They are simple to adjust and easy to use.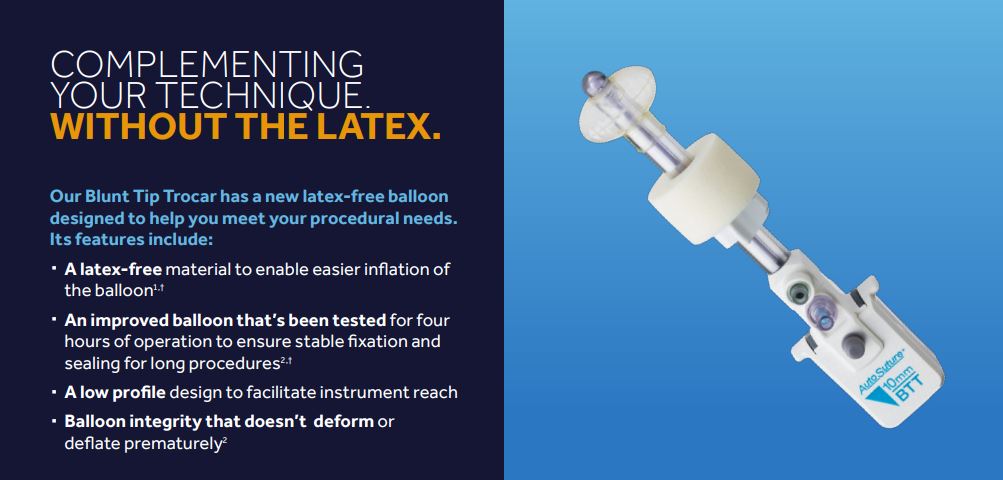 Stable Fixation and Sealing Throughout Your Procedure
The Blunt Tip Trocar consists of a blunt obturator and a valve body/cannula assembly. The valve body/cannula assembly contains an internal flapper valve and seal to prevent gas leakage when instruments are inserted or withdrawn. The Blunt Tip Trocar includes built-in converters to allow insertion of instruments of various diameters. In addition, the device has an external one-way valve for gas insufflation.
To minimize leakage and secure the trocar, the distal end of the sleeve has a balloon which is complemented by the proximal foam sponge/collar assembly. A syringe is provided for inflation/deflation of the balloon.
Optimized Access
Provides easier, one-time access to surgical space, with a uniquely integrated system.
Offers ability to operate in small spaces, with included low-profile 5 mm optical trocars.
Expands access to eligible patients, with balloons not made with natural rubber latex.
Optimized Dissection
Enhances visualization, with anatomic balloons and clear cannulas.
Creates the right space for each procedure, with new anatomic balloons.
Facilitates insertion and full balloon deployment, with tailored cannulas.
Optimized Efficiency
Saves procedural steps with an integrated access and dissection solution.
Adapts to your technique, with the option to use as a system or separately.
Offers more choice in technique, while reducing product codes by up to 50.
Device Characteristics
| | |
| --- | --- |
| What MRI safety information does the labeling contain? | Labeling does not contain MRI Safety Information |
| Device required to be labeled as containing natural rubber latex or dry natural rubber (21 CFR 801.437): | No |
| Device labeled as "Not made with natural rubber latex": | No |
| For Single-Use: | Yes |
| Prescription Use (Rx): | Yes |
| Over the Counter (OTC): | No |
| Kit: | No |
| Combination Product: | No |
| Human Cell, Tissue or Cellular or Tissue-Based Product (HCT/P): | No |
Frequently Asked Questions
1. What do you use to inflate the balloon?
The Blunt Tip Trocar balloons are designed to be inflated with air.
2. How much air is used to inflate the balloon?
The balloon is inflated with 25cc.
3. Where is the latex in the product?
The balloons in the OMS-T10BT, OMS-T10BTS and the OMS-12BT contain latex in the base material of the trocar balloon, which is encapsulated in a silicone material; in normal use there is no patient contact. In the unlikely event of a balloon rupture, the latex may come into contact with the patient.