Hospira 07077-14 - 20 mEq/50 mL Potassium Chloride in Water for Injection, Highly Concentrated 400 mEq/L, EACH
Potassium Chloride in Water for Injection
This Potassium Chloride Injection is a sterile, nonpyrogenic, highly concentrated, ready-to-use solution of Potassium Chloride, USP in Water for Injection, USP for electrolyte replenishment in a single dose container for intravenous administration. It contains no antimicrobial agents.
EACH 50 mL contains potassium chloride 1.49 g in water for injection. Electrolytes per 1000 mL: potassium 400 mEq; chloride 400 mEq. 799 mOsmol/liter (CALC.) pH 5.8 (4.0 to 8.0) hypertonic.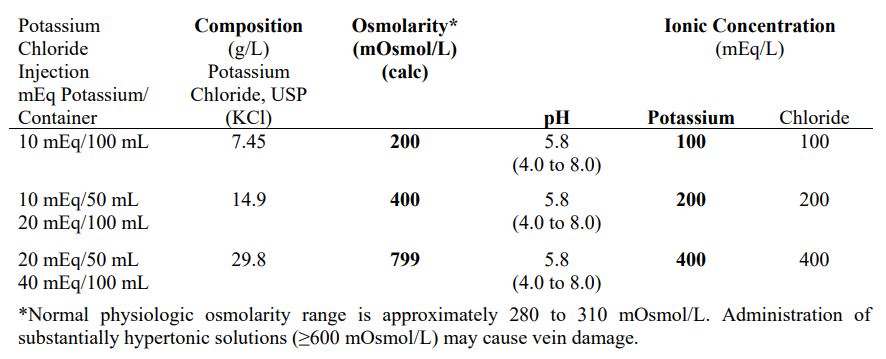 This flexible plastic container is fabricated from a specially formulated polyvinylchloride. Exposure to temperatures above 25 degree celcius (77 degree fahrenheit) during transport and storage will lead to minor losses in moisture content. Higher temperatures lead to greater losses. It is unlikely that these minor losses will lead to clinically significant changes within the expiration period. The amount of water that can permeate from inside the container into the overwrap is insufficient to affect the solution significantly. Solutions in contact with the plastic container may leach out certain of its chemical components from the plastic in very small amounts; however, biological testing was supportive of the safety of the plastic container materials.
Clinical Pharmacology
Potassium is the major cation of body cells (160 mEq/liter of intracellular water) and is concerned with the maintenance of body fluid composition and electrolyte balance. Potassium participates in carbohydrate utilization, protein synthesis, and is critical in the regulation of nerve conduction and muscle contraction, particularly in the heart. Chloride, the major extracellular anion, closely follows the metabolism of sodium, and changes in the acid-base of the body are reflected by changes in the chloride concentration.
Normally about 80 to 90% of the potassium intake is excreted in the urine, the remainder in the stools and to a small extent, in the perspiration. The kidney does not conserve potassium well so that during fasting, or in patients on a potassium-free diet, potassium loss from the body continues resulting in potassium depletion. A deficiency of either potassium or chloride will lead to a deficit of the other.
Indications and usage
Potassium Chloride Injection is indicated in the treatment of potassium deficiency states when oral replacement is not feasible.
This highly concentrated, ready-to-use potassium chloride injection is intended for the maintenance of serum k+ levels and for potassium supplementation in fluid restricted patients who cannot accommodate additional volumes of fluid associated with potassium solutions of lower concentration.
When using these products, these patients should be on continuous cardiac monitoring and frequent testing for serum potassium concentration and acid-base balance.
Potassium Chloride Injection, USP, Composition / Information on Ingredients
| | | | | |
| --- | --- | --- | --- | --- |
| Ingredient | CAS Number | EU EINECS / ELINCS List | GHS Classification | % |
| Potassium Chloride | 7447-40-7 | 231-211-8 | Not Listed | <3 |
| Water for injection | 7732-18-5 | 231-791-2 | Not Listed | >97 |
Potassium Chloride Injection, USP, Physical and Chemical Properties
| | |
| --- | --- |
| Physical State | Liquid |
| Molecular Formula | Mixture |
| Molecular Weight | Mixture |
| pH | 4.0-8.0 |
| Relative Density | 1.00 - 1.02 g/mL at 25 deg. C |
| Viscosity | 1.01 cps at 25 deg. C |