Ships Within
Special Order
Medline DYND160716 - One Layer SelectSilicone Foley Catheter Trays, 16 Fr 10 mL, with 2,000 mL Drain Bag, CASE
One Layer Coude Silicone Foley Catheter Trays
One layer SelectSilicone Foley catheter trays maximize safety and comfort with our 100% silicone Foley catheters.
Medline's One Layer Foley catheter tray design intuitively leads healthcare workers through established best practices.
This unique design also includes labeling and instructions, making it easier to do the right thing.
Completely inert for less tissue irritation and encrustation during extended periods of indwelling use.
Foley catheter has bullet-shaped tip for easier insertion and less buckling, and large, smooth eyes for maximum comfort.
The Trays Include:
Patient education card.
Foley securement device.
PVP swabsticks, 3 pack.
10 mL prefilled inflation syringe.
Lubricating jelly syringe.
Specimen container.
Wrapped Aloetouch 3G gloves.
Fenestrated drape Moisture-proof underpad
Foley InserTag.
Hand sanitizer packet.
Sureprep skin prep pad for securement device placement.
Alcohol prep pad for securement device placement.
All Foley Catheter Trays are sterile.
For difficult insertions, coude-tip Foley catheters feature a bent tip that maneuvers around obstructions leading to the bladder.
Featuring Medlines One Layer Foley Catheter Tray to help ensure that best practices are followed.
Large oval-shaped eye for maximum drainage.
Smooth reinforced tip resists buckling.
Available with silicone-elastomer coated latex or 100% silicone coude catheter.
Why Silicone?
Down to its molecular structure, silicone is built to be an exceptional material for medical applications.

Silicon and Oxygen bonds, along with the cross-linked Silica Polydimethylsiloxane (PDMS) Crosslinking Site fillers, create a durable, inert material ideal for catheters and other medical applications.
ICU Bundle
The IUC Bundle features a patented one layer tray that helps staff habitually follow aseptic technique. Designed by nurses for nurses, the tray intuitively guides clinicians, left to right, through the insertion process. Components are organized in order of use, minimizing the risk of contamination.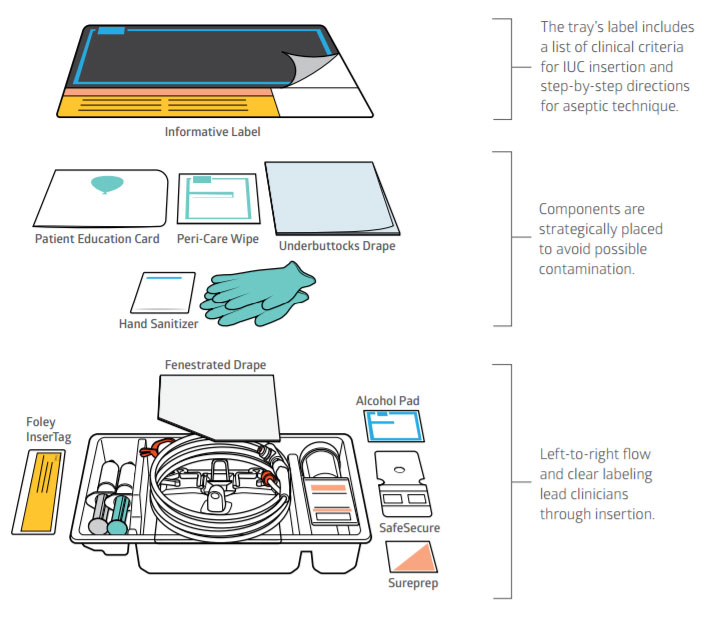 Specifications
Balloon Size 10 cm3.
Brand ERASE Cauti.
Catheter Included Yes.
Closed System Yes.
ERASE Cauti Yes.
French Size (FR) 16
HPIS Code 730_20_10_0
Latex Free Yes.
Material 100% Silicone.
Patient Type Adult.
Product Type Drain Bag.
Temperature Sensing No.
UNSPSC 42142715