Part Number
Medline FITRESTOREXLG
List Price
Call for Pricing
Medline FITRESTOREXLG - FitRight Restore Super Briefs, X-Large (beige), 57 - 66" (145 - 168 cm), 80 EA/CS
Change Your Culture
A culture change is sweeping through long-term care. Its about respect, dignity and individualized care. We are all different. One size does not fit all. Residents with incontinence need a product that keeps them dry, has the right fit, and delivers comfort and dignity.
Without a product that fits right, a culture has developed where residents are placed in larger briefs to accommodate bigger thighs. This creates problems: leakage, odor, compromised skin integrity, discomfort, loss of confidence, and escalating costs.
FitRight Restore Super Briefs (
FITRESTOREXLG

)

The FitRight Restore extended wear brief addresses the need to keep skin extra dry and the need to maintain skin integrity. A layer of Medline Remedy Phytoplex nourishing skin cream has been laid into the brief to further help maintain skin integrity. Platinum Series 4D-Core with odor protection helps wick fluid away to lock in moisture and promote continual dryness, even when worn overnight.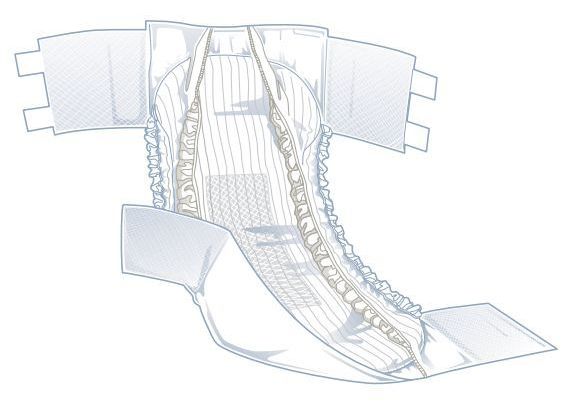 Soft anti-leak guards help to reduce leakage and improve containment.
Skin-safe closures provide secure, safe and repeated refastenability.
SensiSoft cloth-like backsheet provides the ultimate in soft, garment-like, natural feel.
Breathable side panels increase airflow and maximize patient comfort.
Moisture alert wetness indicator changes color when the garment has been soiled.
Features
Highest Level of Performance and Care
Platinum Series 4D-Core.
Medline Remedy nourishing skin cream.
SensiSoft backsheet.
Soft anti-leak guards.
Breathable side panels.
Skin-safe closures.
Brief Absorbency
FitRight briefs are available in seven styles and five levels of absorbency, so its easy to find one that fits your needs.
Specifications
Absorbency 9 - Heavy.
Brand Fitright Restore.
HPIS Code 500_20_10_0
Latex Free Yes.
Material Cloth-like.
Odor Control Product Yes.
Outer Material Inco Clothlike.
Packaging Retail Bags.
Reusable or Disposable Disposable.
Size X-Large.
Tape Tab Hook and loop.
UNSPSC 53102306
Waist Size Range 57"-66"
Wetness Indicator Color change.