Part Number
Medline MSC2033EP
Medline MSC2033EP - Optifoam Gentle Border Adhesive Dressing, 3 x 3" (7.6 x 7.6 cm), 1.5 x 1.5" (3.8 x 3.8 cm) Pad, 10 EA/BX
Optifoam Gentle
Dressing changes can be painful for the patient and traumatic to the skin. But not with Optifoam Gentle. It features specially formulated silicone adhesive that keeps the dressings in place, while allowing you to reposition and remove the dressings while minimizing harm to the periwound skin.
Optifoam Gentle Silicone Border Dressings
Silicone border provides gentle adhesion.
Highly conformable1 border can be lifted and reapplied.
Moisture vapor transmission rate (MVTR) adjusts to fluid level.
Helps create ideal healing environment.
Waterproof outer layer protects wound and helps keep bacteria out.
Low friction and shear outer layer.
Indications: partial and full-thickness wounds with drainage.
Contraindications: third-degree burns and lesions with active vasculitis.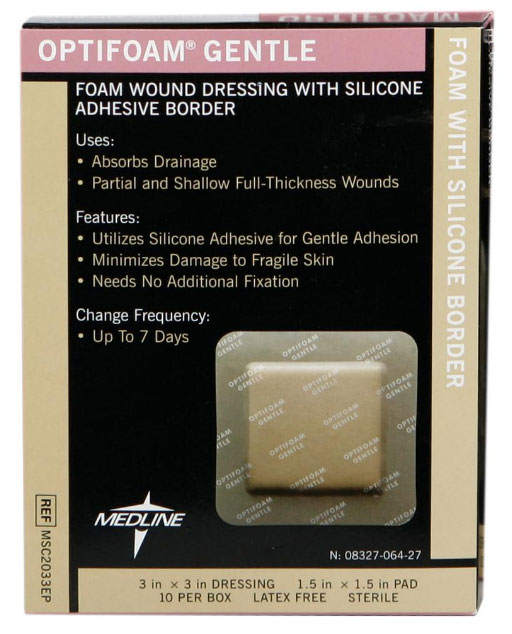 Specifications
Adhesive Adhesive.
Applications and Size 3"X3"
Area of Application Multiple.
Brand Optifoam Gentle.
Dressing Change Frequency/Use Max: 7 Day: Check Drainage.
Dressing Pad Size 1.5"x1.5"
Dressing Size 0
Dressing Type Foam.
HPIS Code 740_90_0_0
Latex Free Yes.
Length Inches 3 in.
Material Foam.
Primary or Secondary Dressing Primary or Secondary Use.
Product Category Foam.
Product Type Adhesive.
Sterile Yes.
UNSPSC 42311504
Waterproof Outer Layer Yes.
Width Inches 3 in.
Wound Condition Type Shallow/Deep,Mod-Hvy Drainage.