Medline MSC2033EP - DRESSING, OPTIFOAM, GENTLE BORDER, 3 x 3" (7.6 x 7.6 cm) 1.5 x 1.5" (3.8 x 3.8 cm) Pad, 100 EA/CS, 10 BX/CS
Optifoam Gentle Silicone Border Dressing
Absorbent Foam Dressings with Silicone Adhesive!
Dressing changes can be painful for the patient and traumatic to the skin. But not with Optifoam Gentle. It features specially formulated silicone adhesive that keeps the dressings in place, while allowing you to reposition and remove the dressings and minimize harm to the periwound skin.
Optifoam Gentle Giving You the Option to Choose Your Gentle!
About Optifoam Gentle
Silicone bordered foam dressing
Silicone adhesive provides gentle adhesion
Highly conformable dressing can be lifted and reapplied
Moisture vapor transmission rate (MVTR) adjusts to fluid level
Highly absorbent
Helps create ideal healing environment
Waterproof outer layer protects wound and keeps bacteria out
Low friction and shear outer layer
Indications
Pressure injuries
Partial- and full-thickness wounds
Leg ulcers
Donor sites
Lacerations and abrasions
Skin tears
First- and second-degree burns
Contraindications
Change Frequency
Optifoam Gentle may be left in place for up to 7 days
Dressing change frequency will depend on amount of drainage
Recommended Uses
All wound depths*
All wound drainage levels
As a primary or secondary dressing
Recommended Secondary Dressings
Gentac Tape
Elastic net
Medigrip Tubular Bandage
Our Educational Packaging
A 2-minute course in Advanced Wound Care!
Our innovative wound care packaging features clear, step by-step instructions and pertinent information to help healthcare professionals better understand and more easily deliver wound care at the patients bedside. It eliminates confusion and highlights critical information, ultimately leading to better patient care.
In a study involving 139 nurses at eight different facilities, 88 percent who used a wound care product with an educational guide on it were able to apply the dressing correctly. None of the nurses who received traditional dressing packaging were able to apply the dressing correctly.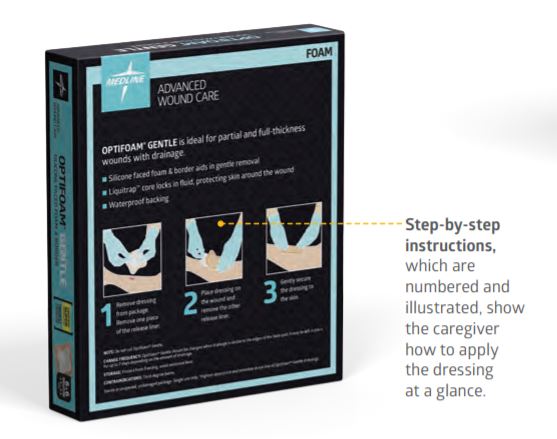 Specifications